Did I say I'd post in the mornings? Cause I must have meant afternoons :P
Robin asked about lifelines yesterday and I did allow them last year. So I'll allow them again this year! Only rule is that you must TALK to your lifeline- no emailing/iming/texting, k?
This morning while the kids were at school I did a little work on my newest lace project- the Juno Regina Stole from
knitty
. Ganked pic: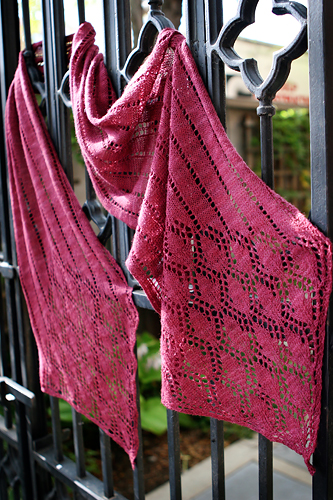 I'm knitting mine in a gorgeous green yarn (Wollmeise in Farn for you yarnies out there), and loving it, tho I have QUITE a long way to go yet. Speaking of lace, here's a pic of the shawl I asked for yarn opinions on last month! Sorry the pics are kinda crappy- I don't have one of me wearing it yet. I'm enjoying lace knitting more than I have in the past- in part because I'm knitting in fingering weight yarn (as opposed to laceweight) and in part because I've figured out which patterns are most likely to drive me batshit crazy, and I avoid them.
Wow that picture really leaves a lot to be desired. I'll try to get an action shot this weekend!